Testimonials
Happy Vancouver Clients | Happy Relocation Clients | What Tina's fellow REALTORS say about her
While the recognition Tina has received from the real estate industry is a testimony of her professionalism, it is her clients that speak most highly of her.
From Happy Vancouver Clients:

April 2011 from Ms. Theresa Tran






---



September 21st, 2010
"As we were anxious to buy our first home, Tina was patient, informative, and assertive at all times. She was always readily available, worked very fast, and demonstrated a comprehensive knowledge of the housing market. Tina helped us find the perfect combination of a great home to live in and a solid investment for the future. She always provided good advice, and kept our ideas grounded and realistic. We will without a doubt continue to seek Tina's services in the future, and go to her for constant advice on all things real estate."
Darryl , Research Manager
Gabriela, Public Opinion Researcher
---

September 16,2010


Tina Mak helped us look for and buy a new home and then sell our condo. She is flexible but cares that the place fits the client responsive. Tina is always positive and very energetic with a great sense of humour so there's always a laugh. She doesn't mind running around and when she needs extra assistance a great team of diligent, and supportive associates help out. Tina understands buyers have some nervousness and supports them through the entire process of buying and selling. Information is valuable and Tina knows her profession. She recommended a really great home inspector and offered to refer us other professionals if needed, We love the personal, outgoing, energetic person that is Tina Mak!!
Terry J. Schenkel
Assistant Director of Family Support Services at the Developmental Disability Association
Tom Hsieh
Team Lead at Engineering Dept of City of Vancouver
Vancouver, BC

---
---
April 13, 2010
My work experience with Tina Mak
"After a few times of disappointing experiences with realtors, in 2003 I was introduced to Tina Mak, who most definitely exceeded all my expectations. Tina's impressive and professional approach in her business interactions has won my loyalty during the years and I have since introduced her to many friends and family members. Not just she assisted me in selling and purchasing a few units so far, she has been really good friend and helpful in difficult times that I had during selling & purchasing places. What I like most about Tina is: business never comes first! What comes first is; what's best for her client. Either is their financial or life situation. Tina Mak is not just a realtor, she is consular and work like: Impossible is nothing. I am grateful to having Tina as my realtor and friend and look forward to working with her for years to come.
Thank You, Tina for your excellent work"
Saeid, Ghorani
---
Jan 5th, 2010
"Annie and I are very pleased with your valued assistance over the past few months. It is a real joy working with professionals. As always, you provided us with informative, timely and accurate materials which enable us to make the correct decisions time after time.
We met a lot of realtors over the years, but i had never met one who works tirelessly like you. We are the fortunate ones who had been your customers on both selling and buying of properties in Vancourver in the past 6 months. Your careful considerations and advices on buying and selling made us feel confident and yet relaxed. We know we are in the good hands.
We also like to thank Yvonne for her part in helping us in our buying and selling of properties. She is very lucky to working along side an experienced mentor.
We are your very happy customers and would not hesitate to recommend you to any potential property buyers and sellers."
Kind regards,
Simon and Annie
Vancouver & Burnaby


---
"The home I wanted to buy was the perfect choice for me. However, there were substantial legal problems with the owner that included bankruptcy and court ordered foreclosure. Other agents I spoke with were not familiar in dealing with these complications. Ms. Mak guided me through the process of purchasing this home with skill. She also made a sustained effort to obtain the best deal possible. As a result, I now own a home which I believe is valued well above the price I paid for it. I have recommended Ms. Mak to friends and associates, and would not hesitate to do so again. Ms. Mak is a knowledgeable agent and a credit to her profession."
Neil S. Morrison
Port Moody, British Columbia, Canada
---
"We were interested in purchasing an apartment in the Yaletown Concord Pacific area of downtown Vancouver. Our key requirement was that it had to look over the False Creek waterway. We had at least six real estate agents looking for us and eventually created a short list of acceptable properties. Tina Mak showed enthusiasm, kept our needs in mind, and was always available whenever we needed answers to our questions. Thus, we had Tina close the deal for us with the listing agent. Tina's attention to detail and her extraordinary knowledge helped us in areas of the contract that needed clarification such as the inclusion of parking stalls and storage lockers. We will definitely retain Tina Mak for our future property investments and purchases."
Herb and Lorraine Chow
Vancouver, British Columbia, Canada


---
---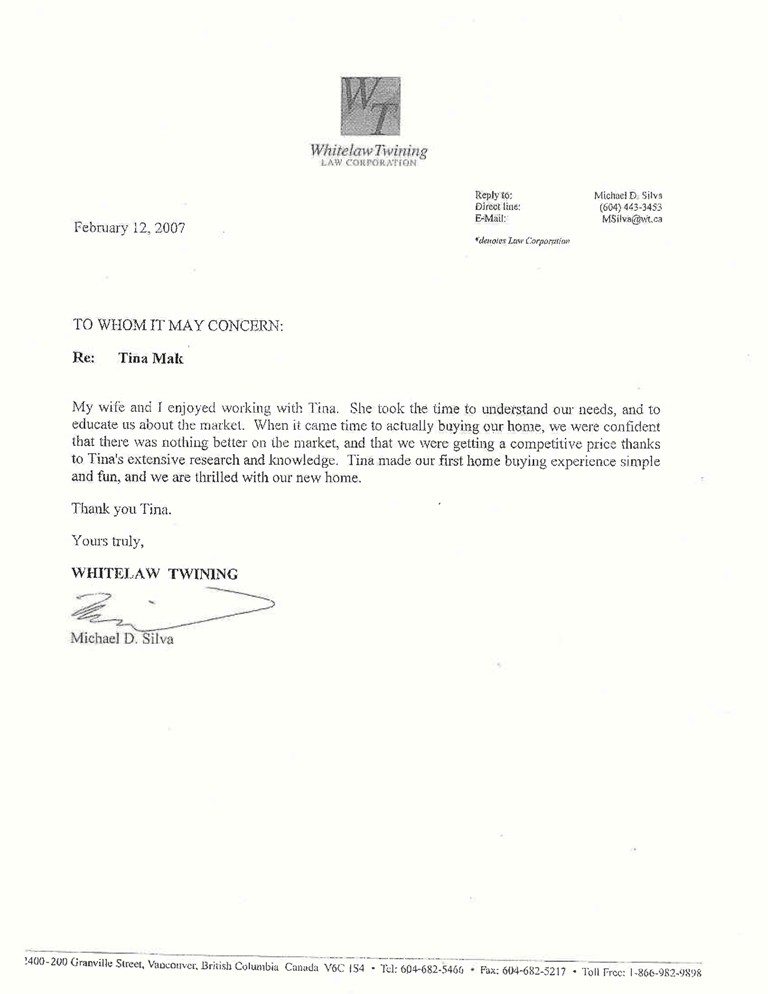 ---
---
---
---
---
---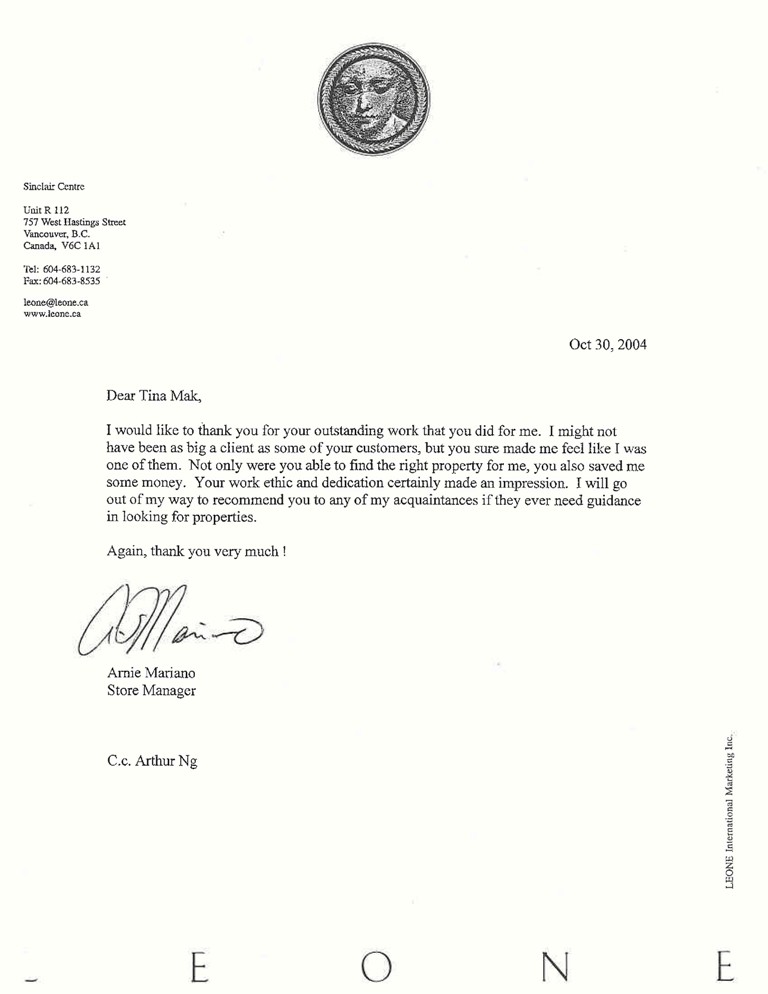 ---
---
---
From Happy Relocation Clients:
---
---
---
---
February 13,2001

"I searched the internet for a condominium in Vancouver, British Columbia and received information from twelve real estate agen
ts (one of which was Ms. Tina Mak). Tina went the extra mile to accommodate my needs. She had the uncanny ability to grasp exactly what I was looking for and knew where to find it. Being new to the Vancouver area, Tina helped me gain a better understanding of local laws and customs and advised me on locations that would make better investments for future resale. As a result of Tina's efforts, I now own a home with a beautiful view of the water. Because the view was important to me, Tina found me a condominium that restricted future building so I don't have to worry about losing my view. I am very fortunate to have had the pleasure of working with Tina Mak and I am looking forward to doing additional business with her."
Anne L. Holland, President - Mayco Petroleum Inc.
Dallas, Texas, U.S.A.
---
"Tina is by far the most professional agent my wife and I have ever dealt with, and her negotiation skills are top notch. Tina takes the time to define your wants and needs, and you will never feel like she just wants a sale above anything else. We started working with Tina in August of 2008 when we were still in residing in Toronto, and over the course of the next year she showed us about 40 homes in the areas we liked. When our dream home came onto the market, Tina represented us during the nerve-wracking bidding war, and we used her advice to make the best possible offer within our budget. What a relief when our offer was accepted. We recommend Tina to anyone who is looking for an agent to help with a purchase or sale and wanted the straight goods."
Colin & Marion, Galinski
New Westminster, BC, Canada

---
---
From her fellow REALTORS in Vancouver:








Thank you Tina! You are tough & persistant = Success!
Douglas Soo - Coldwell Banker City Centre



---


Dec, 2008


Hi Tina;

I appreciate your efforts in putting the deal together. It is great to work with a professional and you are certainly that."
Dave Rickard - Royal Lepage Brookside Rlty
---
When you are dealing with real estate, Tina's professionalism and breadth of expertise will ensure your needs are met. The next time you are buying or selling, don't take a chance. Put Tina Mak to work for you.
---
---


Dec 21, 2009